Hoang Minh Ceramics co., Ltd
"Essence from the clay - Spermatorrhoea from people
"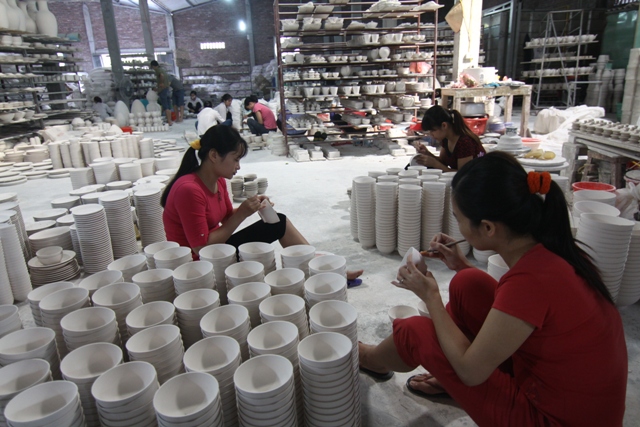 W
elcome customers to branded products HOANG MINH CERAMICS. Formerly the basis of fine art ceramics in Bat Trang famous, business mainly the production and export, wholesale trade, retail sales of ceramic products. HOANG MINH CERAMICS Co., LTD with 2000 m2 of workshop with a workforce of skilled, experienced. The company specializes in manufacturing and export business major items:
Product antique furniture: It is restored luxury and unique current company. That essence is a combination between ceramic and silver, porcelain and bronze, all the production stages of this product are made by hand, processing techniques effects are subtle. The unique product brand HOANG MINH was exported, the customers appreciated and preferred
Tableware Products: It is a leading ceramic products high quality in Bat Trang. Coming to the product of Hoang Minh, you will discover the designs furniture with traditional and modern. HOANG MINH is the product of domestic and foreign customers preferred for durability beautiful properties with time, always earning trust of the majority of consumers - consumers love the clean, convenient and safe when in use.
Ceramics Gifts Products : Produce of gift products according to customer requirements, quality assurance and delivery time, reasonable price, professional service style.
Come to Hoang Minh – You will surely be filled with delightful discoveries and a desire to own products ceramics Hoang Minh creation.
Don't hesitate to contact us
HOANG MINH CERAMICS CO ., LTD
Add : No 282 , Group 4 , Giang Cao Hamlet , Bat Trang Village , Gia Lam Town , HaNoi City , VietNam
Tel : 84 4 36715226 Fax : 84 4 38742992
Email :
hoangminhceramics@vnn.vn